To learn more about the African & African Diaspora Studies Program (AADS) at Florida International University, please contact our offices at africana@fiu.edu or at 305 348-6860. The Program Assistant can be reached at 305 348-4264.
Supporting AADS' Programming and Offerings
The African & African Diaspora Studies Program (AADS) organizes a number of events every year, during either the fall or spring semester. These events mostly consist of lectures, symposia, conferences, film projections, round-table discussions, and informative presentations of various kinds. These events focus on continental Africa and/or the African diaspora globally.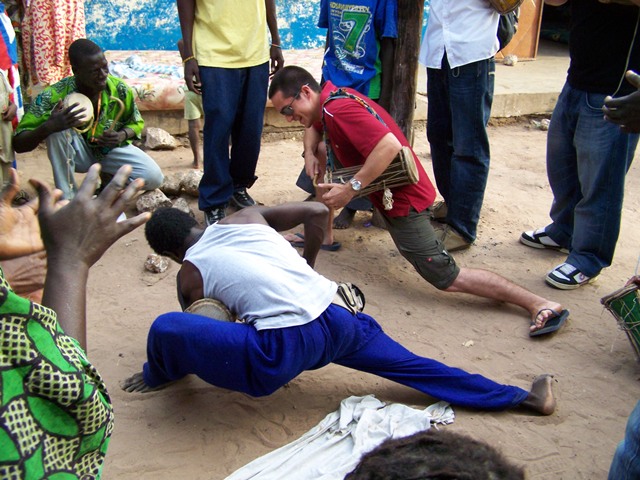 A student learning how to play drum during the study abroad program in Senegal and The Gambia, summer 2010.
Thanks to the expertise of a varied and outstanding faculty, AADS also offers diverse academic programs: an undergraduate certificate in African studies (15 credits); an undergraduate certificate in global black studies (15 credits); a graduate certificate in African & African Diaspora Studies (18 credits); an MA program in AADS (36 credits); three combined MA in AADS/PhD in either history, global and sociocultural studies (anthropology, geography, or sociology), or international relations programs (75 credits); and one study abroad program that brings undergraduate and graduate students to Senegal and The Gambia over the summer (see the relevant pages on this site).
Any generous donation provided will go a long way to supporting these AADS initiatives. They will allow students to learn more and better about continental Africa and its Diasporas globally. It will help AADS to fill its mission with the FIU community and the South Florida communities we thrive to serve. If you would like to make a donation using a credit card, please follow this link to a secure donation form.
Dr. Rahier with AADS undergraduate and graduate students.